"Going from a not very good team to a really good team last year, it's a big difference," forward says of trade to Cup-champion Avalanche.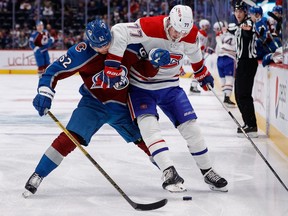 Article content
DENVER — Artturi Lehkonen took his former Canadiens teammates Jake Evans and Joel Armia out for dinner Tuesday night in Denver.
Article content
"It was good," Evans said after the Canadiens' morning skate Wednesday at Ball Arena. "It was free, so that's always good. It was great catching up with him. It seems like he's really enjoying it here. That's always great to see."
Article content
Lehkonen played his first game against his former teammates Wednesday night since being dealt to the Colorado Avalanche before last season's NHL trade deadline. It ended up being a memorable night for Lehkonen, who scored a power-play goal in the third period before Mikko Rantanen scored in overtime as the Avalanche beat the Canadiens 2-1.
Lehkonen has 9-13-22 totals in 28 games with the Avalanche this season, including five power-play goals.
Lehkonen was rarely used on the power play with the Canadiens and scored only six power-play goals during his six seasons with Montreal. Nick Suzuki leads the Canadiens this season with five power-play goals, the same as Lehkonen. The Canadiens have the worst power play in the NHL, with a 13.6 per cent success rate, while the Avalanche rank fifth at 27.6 per cent.
Article content
Lehkonen picked up the bill for the dinner with his two former teammates Tuesday and was disappointed that Brendan Gallagher — his closest friend on the Canadiens — couldn't be there because he's back in Montreal still healing from a lower-body injury that has forced him to miss the last 11 games. Lehkonen was also hoping to play against Gallagher Wednesday night.
"I'm pretty disappointed in that," Lehkonen said before the game. "But I'm sure I'm going to get a chance to play against him. It would have been a battle."
The Avalanche will play the Canadiens again at the Bell Centre on March 13, so Lehkonen might get his chance then to battle against Gallagher.
"I think Lehky's making sure Gally is paying for dinner in Montreal," Evans said.
Article content
Lehkonen was always a man of very few words when dealing with the media during his time in Montreal, but he answered questions for more than seven minutes in the Avalanche locker room Wednesday morning.
The 27-year-old seemed very happy and relaxed. I guess winning a Stanley Cup — and scoring the winning goal in the Cup-clinching game against the Tampa Bay Lightning last season — can do that to a player, not to mention being rewarded with a five-year, US$22-million contract in July.
Avalanche GM Joe Sakic believed Lehkonen was the type of 200-foot player who could help his team get over the hump and win a Stanley Cup. Sakic was willing to give up defenceman Justin Barron (the 25th overall pick at the 2020 NHL draft) and a second-round pick in 2024 to get Lehkonen, who had the opportunity to become an unrestricted free agent after the season. Lehkonen responded by posting 8-6-14 totals in 20 playoff games, including four game-winning goals, and then signed his new contract with the Avalanche that has an annual salary-cap hit of US$4.5 million, almost doubling the US$2.3 million he earned with the Canadiens last season.
Article content
"It's not just one guy," Lehkonen said when asked about his role in the Stanley Cup victory. "I was just trying to bring my own game in there and trying to help all over. Just trying to help the team win."
Lehkonen said he hasn't changed anything about his game. His work ethic was never questioned in Montreal, but Lehkonen struggled to produce offence after a promising rookie season that saw him post 18-10-28 totals in 73 games. He never scored more than 13 goals in his next five seasons with the Canadiens.
"Going from a not very good team to a really good team last year, it's a big difference," Lehkonen said. "I got a chance right away to play with really good players."
When asked what's the biggest lesson he learned during his six seasons in Montreal after being selected by the Canadiens in the second round (55th overall) of the 2013 NHL draft, Lehkonen said: "I learned a lot there. My first years, Pleky (Tomas Plekanec) was a huge part of my growth as a player and as a person as well. I learned a lot from him. There's not one specific thing that comes to mind, but a lot of growth.
Article content
"I miss Montreal, for sure," he added. "I did spend a lot of time there, so it was like a second home to me. I miss the guys over there. I spent a lot of time with the team, so I got to know a lot of people around the city. … I spent six years there, so you grow as a human being a lot over that time. I'm going to cherish those memories as well."
What does he like most about living in Denver?
"The sun, for sure," Lehkonen said as his face lit up. "There's a lot of sunny days, so it's a lot of fun."
It must really be fun when the sun shines on Lehkonen's Stanley Cup ring.
I'm a journalist who specializes in investigative reporting and writing. I have written for the New York Times and other publications.