Takes, Thoughts, and Trends is theScore's biweekly hockey grab bag.
Done work for the day, Carolina Hurricanes head coach Rod Brind'Amour hopped in his truck and drove to his preteen son's school on Thursday afternoon with two things on his mind: the quality time he'd be spending with Brooks on the trip home, and the minor hockey practice later that evening.
"That's a good day," Brind'Amour, a coach on Brooks' team, told theScore.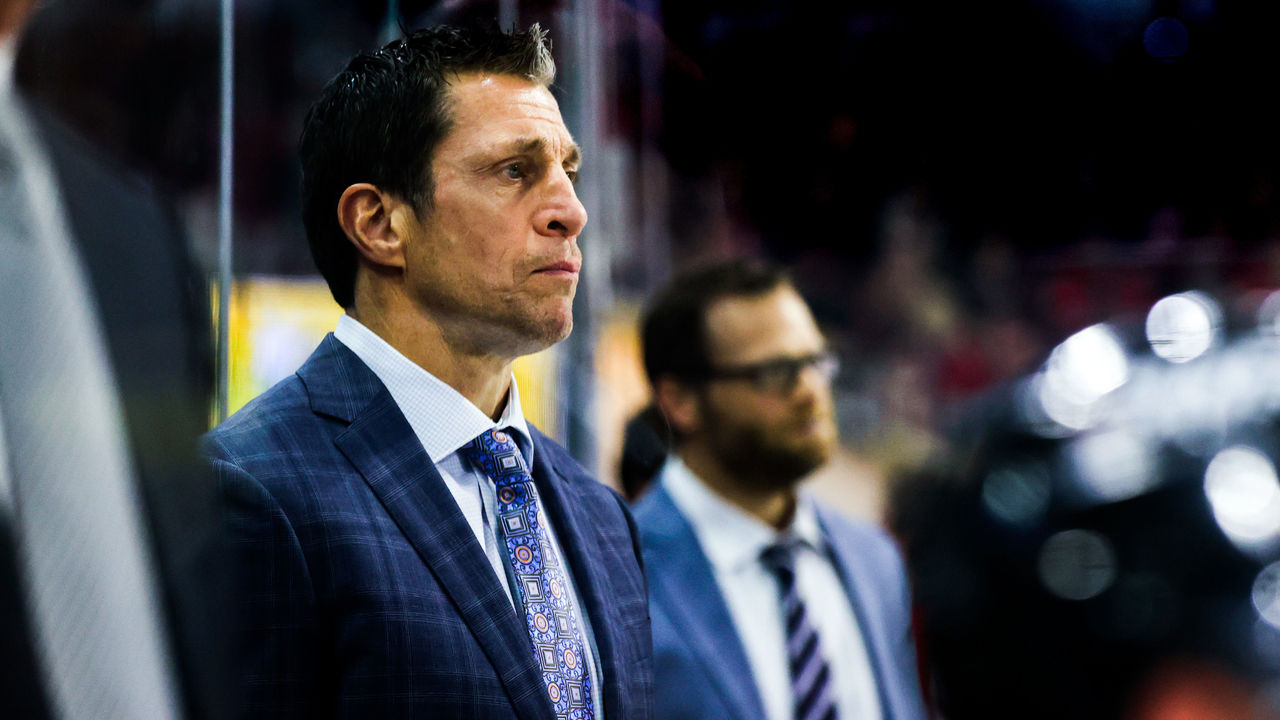 Another good day for Brind'Amour will be when star winger Max Pacioretty is finally cleared to return to the lineup following offseason Achilles surgery. There's no firm timeline set, the coach says, though Pacioretty – a six-time 30-goal scorer acquired via trade in July – has been skating on his own recently.
The Hurricanes own a 14-6-6 record. Their .654 points percentage is seventh out of 32 teams heading into Friday's games. So by no means is Brind'Amour pulling his hair out after the club's first 26 games. Yet a lack of goal-scoring – 2.89 per game, well below the NHL average – is eating at him a little bit.
"Missing Pacioretty has been real tough because that was a guy we were counting on to score a lot of goals," said Brind'Amour, now in his fifth season as coach. "That responsibility shifted to other people, and it's been hard."
Hard might be underselling it. Three players – Andrei Svechnikov (15 goals), Martin Necas (12), and Sebastian Aho (11) – have combined for half of Carolina's goals. Losing top-line winger Teuvo Teravainen for 10 games in November didn't help, but guys like Seth Jarvis (five goals), Jesperi Kotkaniemi (two), and Paul Stastny (zero) have failed to seize the moment.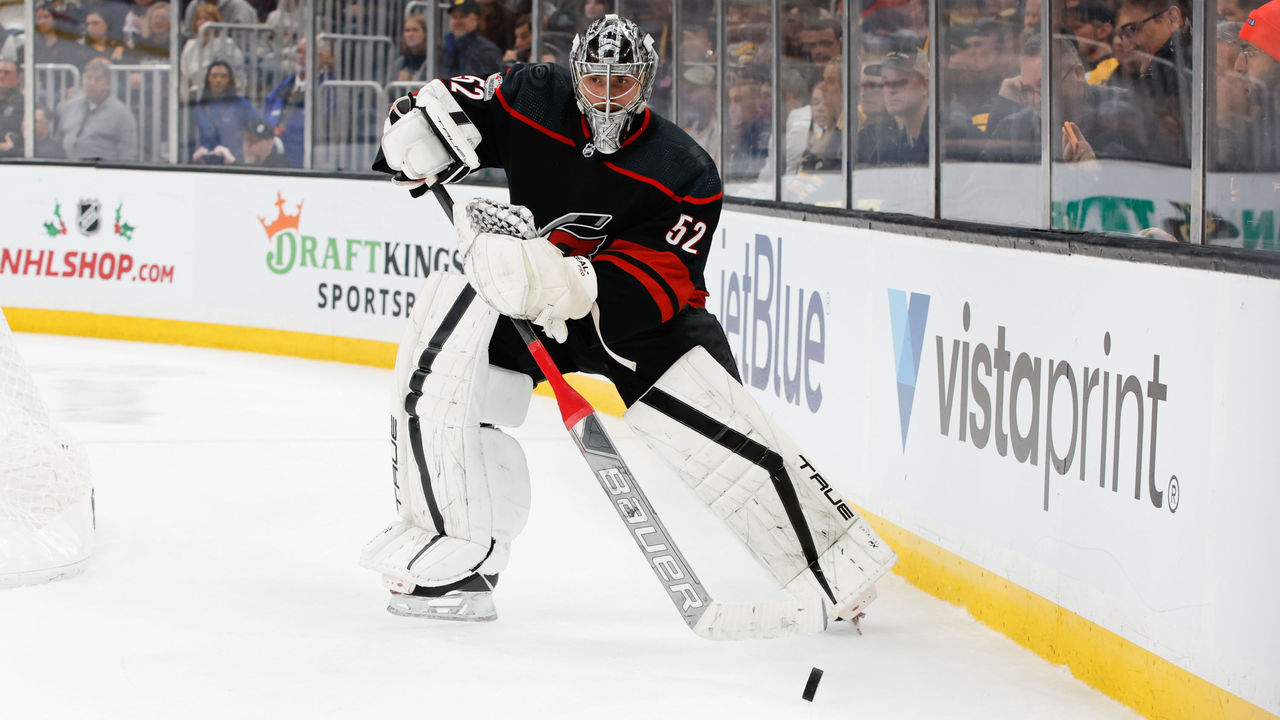 Carolina's defensive metrics are as strong as ever, which is no surprise given the back-end personnel and Brind'Amour's playing style. Another offseason pickup, Brent Burns, is now on the top pair with Jaccob Slavin, one of the NHL's most trustworthy defenders. In the pair's 400 five-on-five minutes so far, Carolina has a 58.2% expected goals rate, according to Evolving-Hockey.
"They're still trying to figure each other out a little bit, but it's definitely gotten better," Brind'Amour said. "The guy we brought in – Brent Burns – everyone knows how good of a player he is, but what I appreciate is his mentality.
"Here's a guy who's been in the league forever, been the best defenseman in the league at certain points, and we bring him here and say we're going to do it differently than how he's been doing it in the past. He could easily look at me, and go, 'I make $8 million, I can do it my way.' But he's not like that at all. He goes, 'OK, let's do it.' Every day he watches video. It's like I'm coaching a kid, a young player. It's refreshing having a guy his age, a pro athlete for 18 years, someone who's done what he's done, who wants to get better."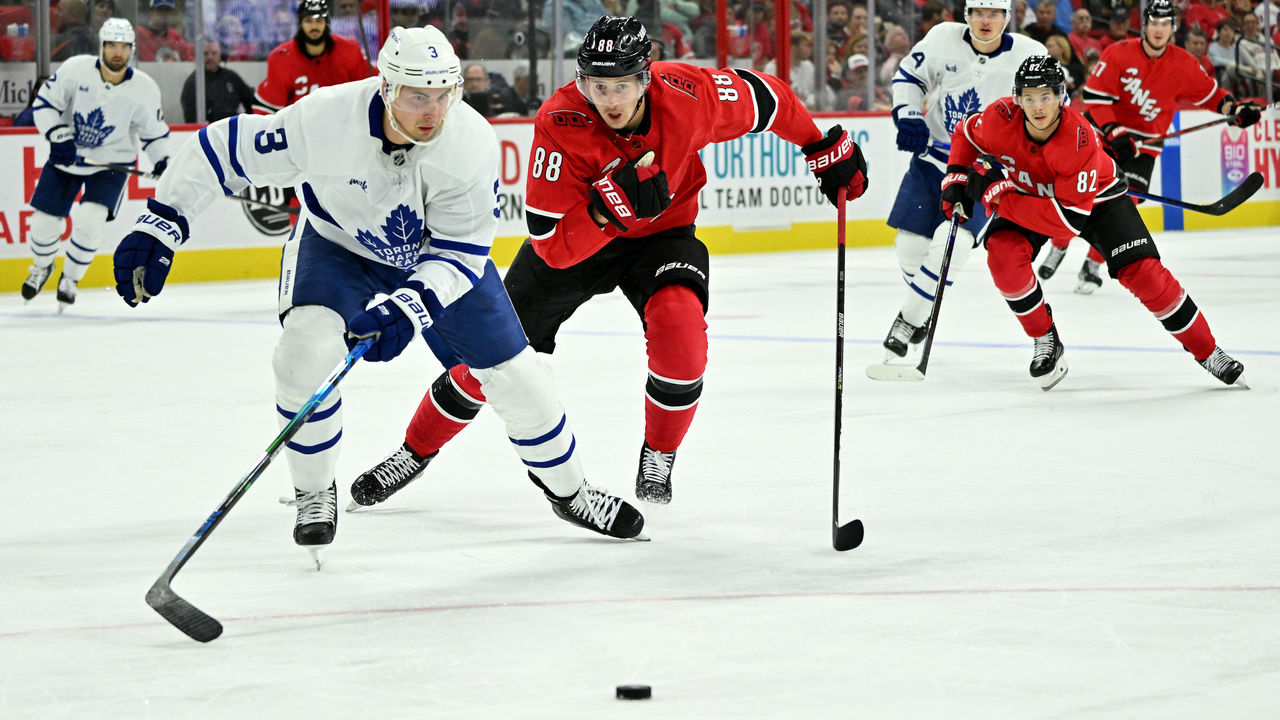 Brind'Amour had more to say about a few other Hurricane players, too.
On Necas breaking out offensively, pacing the team with 28 points: "It's the natural progression of a kid turning into a man. All of a sudden, everything clicks. He's not shocked by anything he sees now on the ice. There's a comfort level in everything he's doing in the game. It helps too if you have success early on in a season. You get confidence and you feel like you can do whatever. That's where his game is right now. He's always had the ability."
On depth forward Jordan Martinook's career-best 0.5 points per game: "He came into camp in way better shape. You can see it in the way he's playing. He's got that extra step. That's really helped his game. He works his ass off every night. You love those guys. He brings so much energy to our group."
On calm, 23-year-old rookie goalie Pyotr Kochetkov leading the team with 10 starts due to multiple injuries: "Can he become that No. 1 guy eventually? I would hope so. Because he works really hard and he's very competitive, and I love that in goalies. I feel like he's going to will himself to be better over time. I do think there's a ton of potential. Honestly, right now it's a lot to ask to throw him into the crease every night and to be the guy for us."
Comparing the NHL's juggernauts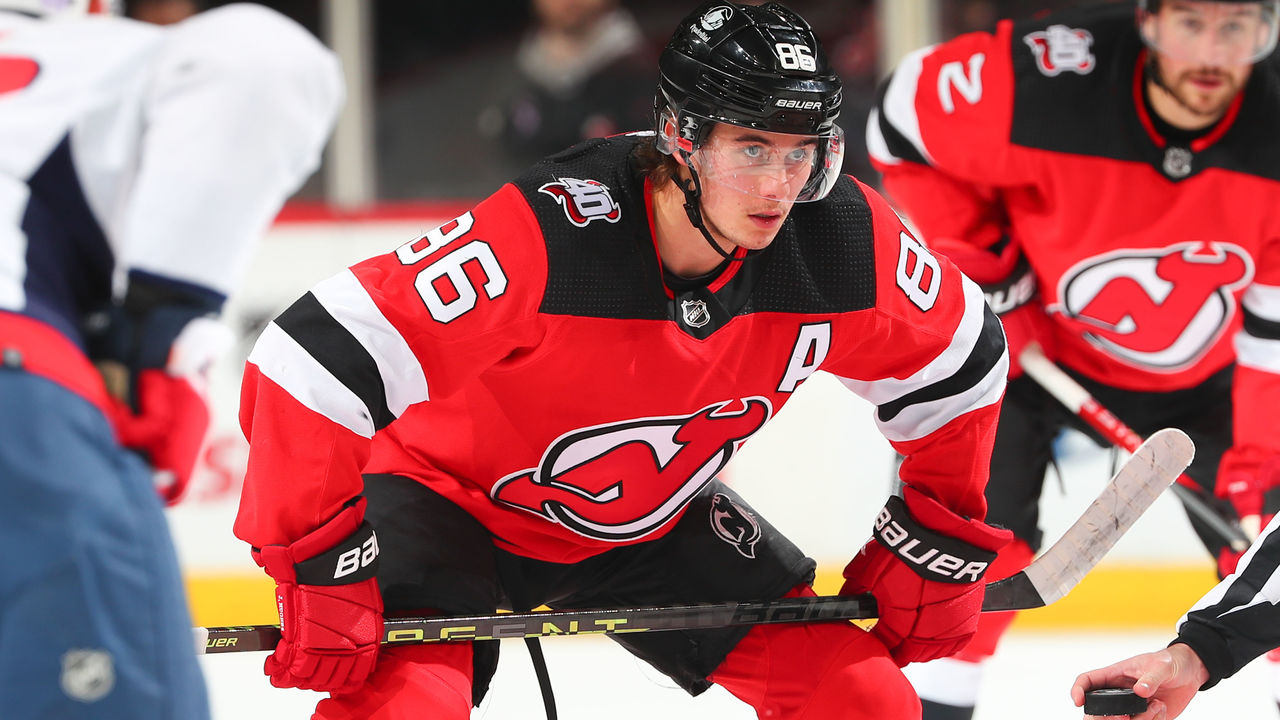 The Boston Bruins and New Jersey Devils are juggernauts, rocking respective points percentages of .860 and .827. No other NHL team is above .714.
There is very little separating the two through 30% of the regular season: Boston, with its plus-47 goal differential, is second in goals scored per game (3.96) off 16.6 quality chances a night, according to Sportlogiq tracking data. It is also first in goals against per game (2.08). New Jersey, meanwhile, is plus-39, fourth in scoring (3.69) off 16.8 chances, and second in goals against (2.19).
The Bruins arrived at this point with better save and shot rates than the Devils. Goalies Linus Ullmark (17 starts), Jeremy Swayman (seven starts), and Keith Kinkaid (one start) have combined for an NHL-best .929 save percentage, while the club's skaters, led by 18-goal man David Pastrnak, have scored on 11.3% of shots on goal, the fifth-highest rate in the league.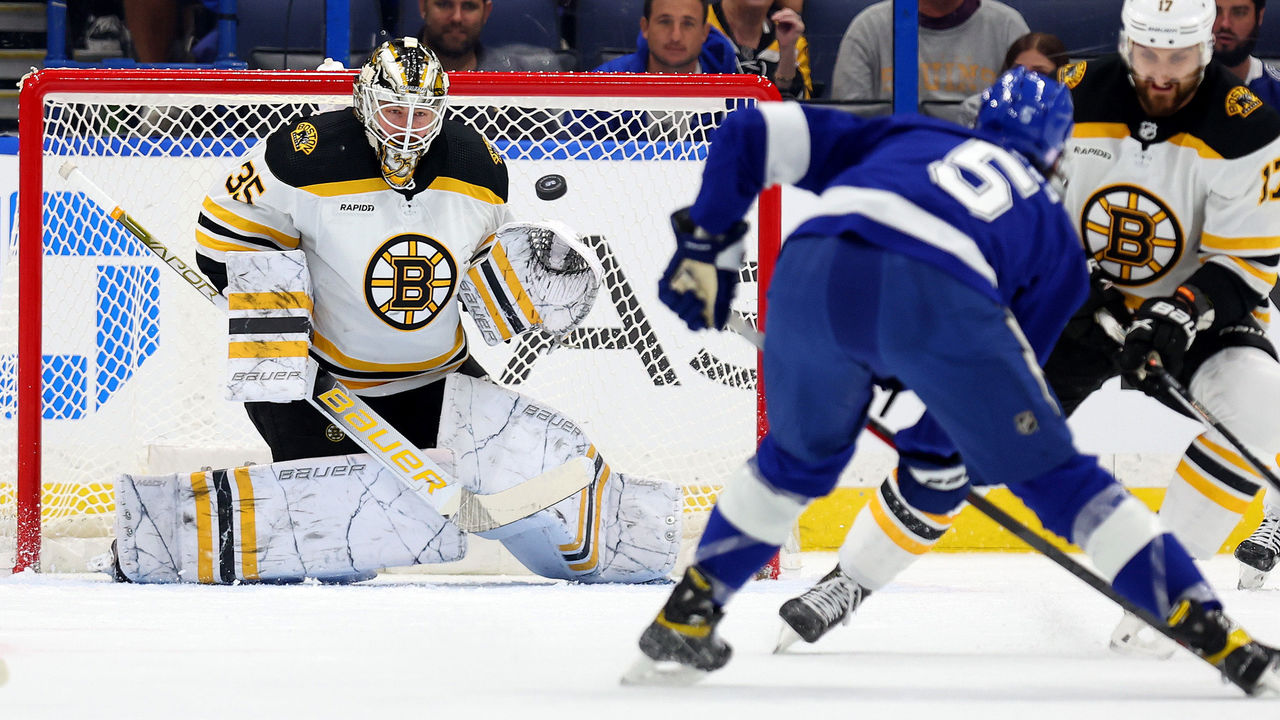 Boston has also been prolific on special teams, boasting the best penalty-kill success rate and fifth-best power play. New Jersey's penalty kill has been strong, sitting fifth, but its power play has struggled enough to rank 24th.
Coach Lindy Ruff's Devils make up for that lack of power-play finish by being an absolute buzzsaw at five-on-five, averaging a league-high 3.37 goals for per 60 minutes, which slightly exceeds their expected goals for per 60 rate (3.28). Meanwhile, Jim Montgomery's Bruins rank fifth and 11th. The teams have nearly identical five-on-five defensive metrics.
One final category to cover: The Bruins are a remarkable 15-0-0 when scoring the first goal, while the Devils are 14-3-0. Yet New Jersey has the upper hand as far as time spent with the lead. On an average night, the Devils lead for 30:35, are tied for 19:58, and trail for 9:47, versus the Bruins' 28:58/19:14/12:39 split.
No matter how you slice it, these two clubs are toying with the opposition.
Jost on waiver-wire life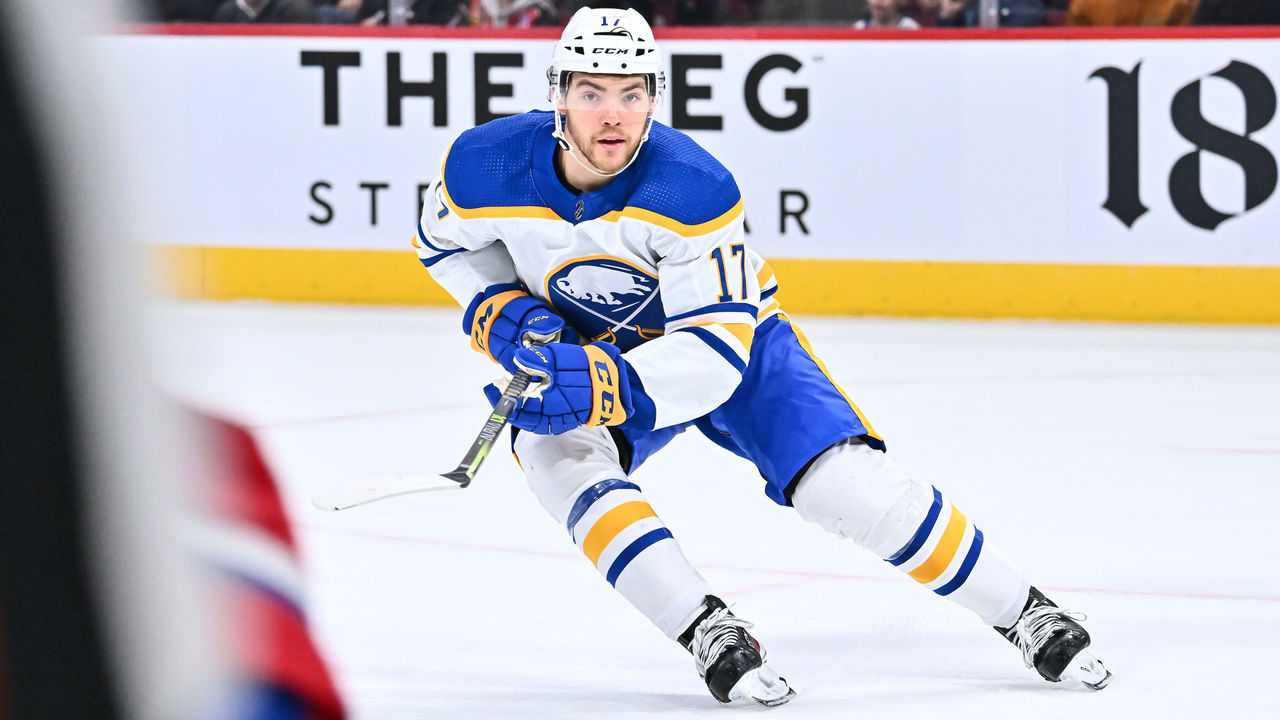 A bunch of notable names have hit the waiver wire this year, including Tyson Jost, Kieffer Bellows, Nick Foligno, Mike Reilly, and Cal Petersen. Jost, a former 10th overall pick, was the only one in the group to change addresses.
The Sabres claimed Jost from the Minnesota Wild three weeks ago and the forward has drawn into all eight games since getting settled in Buffalo. Head coach Don Granato loves Jost's ability to slot up and down the lineup. "Very solid reputation not only as a skill player," Granato said, "but as a person."
Jost is a pending restricted free agent who's in the final season of a two-year, $4-million deal. The Wild waived him just eight months after he was flipped to Minnesota by the eventual Stanley Cup-winning Colorado Avalanche.
"It's definitely not a fun feeling," Jost said last week of hitting the wire for the first time. "You're anxious. You don't really know what's going to happen, don't know where your life's going to be within the next 24 hours. I just tried to take the positive out of it. That's what you have to do with anything in life."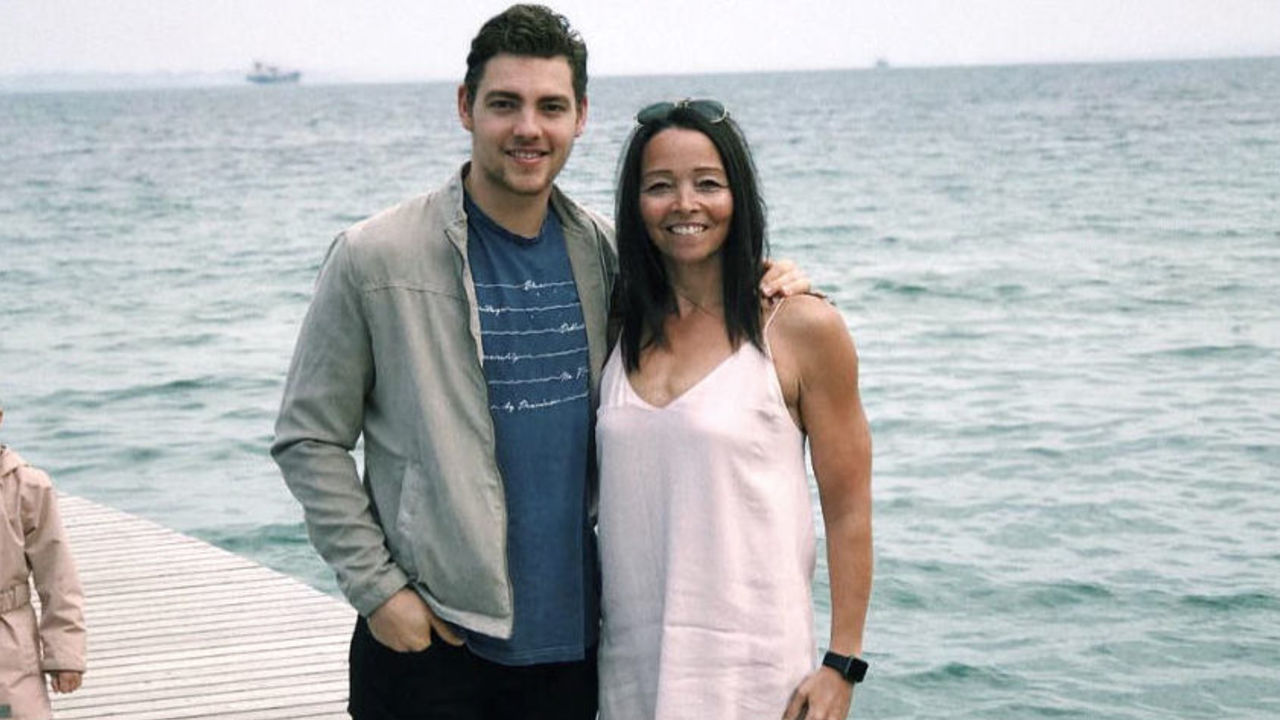 Jost, 24, learned that lesson from his mom, Laura, who raised him and his sister, Kacey, as a single parent. ("She's the best," he said. "She gets Mother's Day and Father's Day.") Coincidentally, Laura was on holidays and visiting Jost from Alberta when he found himself in NHL limbo, talking on the phone with his agent all day. "It was nice to just chill with her, get a little mom touch," Jost said. "My day would have looked a lot different if it were not for her."
As of last week, Jost was living in the hotel attached to KeyBank Center, the Sabres' home arena, while Laura, who had planned a two-week trip, continued packing back in Minnesota. "Funny how it works out," Jost said, grinning. "But she'll come down to Buffalo soon and it'll be nice to see her again. She'll help me get settled and also help me look for a place to rent."
Jost has scored a goal. He's played center and wing, finding chemistry with two pairs of linemates – Zemgus Girgensons and Kyle Okposo, and Victor Olofsson and Casey Mittelstadt. Buffalo's penalty killing numbers have improved. There's no guarantees he'll be in Buffalo for the long haul but so far, so good.
"I never take anything for granted," Jost said.
Parting shots
J.J. Moser: At the NHL/NHLPA player media tour in September, Clayton Keller was asked which Arizona Coyotes player was primed to break out in 2022-23. "Moser. He's an absolute stud," Keller said before noting the relatively unknown blue-liner is smart, skates well, and has a good defensive stick.
Moser, who was drafted out of the top Swiss pro league in 2021, excelled in an elevated role to start this season with No. 1 defenseman Jakob Chychrun sidelined until mid-November. Through 24 games, Moser, 22, leads the 7-13-4 Coyotes in ice time (22:56) and sits fourth in points (13). He's the only player picked outside of 2021's first round (60th overall) to appear in an NHL game.
Breakaway clappers: The slap shot is no longer in fashion in the NHL. The typical game in 2009-10 saw 7.11 slap shots. The per-game rate fell to 4.08 last season. It's safe to assume slap-shot rates specific to breakaway chances have dipped, too.
All of this was important context last week when Ottawa Senators forward Claude Giroux boldly chose to unleash a clapper on a breakaway late in the third period of a game against the San Jose Sharks. It was an incredible sight, a throwback to the 1990s. "In between periods I told (teammate Shane) Pinto I was gonna score on a slap shot. So I didn't really have a choice," Giroux explained postgame. Long live the breakaway clapper!
Colorado Avalanche: Regardless of which team you cheer for, you have to feel for the Avalanche right now. The defending Stanley Cup champions are icing the equivalent of a preseason lineup – a blend of legitimate NHLers, AHL mainstays, and guys barely anybody's heard of.
As of Friday morning, Gabriel Landeskog and Darren Helm were on long-term injured reserve. Valeri Nichushkin, Bowen Byram, Josh Manson, Kurtis MacDermid, and Shane Bowers were on the IR. And Nathan MacKinnon, Artturi Lehkonen, and Evan Rodrigues were also out. According to NHL Injury Viz, the Avalanche had tallied 100 man-games lost to injury through Dec. 1. They've dressed a total of 34 players in 24 games. I don't think this stretch of misfortune will derail their season and cause them to miss the playoff cutline. But it most definitely counts as post-Cup adversity.
John Matisz is theScore's senior NHL writer. Follow John on Twitter (@MatiszJohn) or contact him via email ([email protected]).
I'm a journalist who specializes in investigative reporting and writing. I have written for the New York Times and other publications.