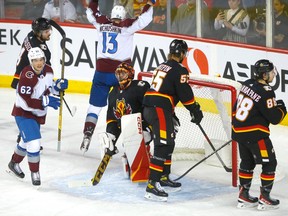 Article content
The Calgary Flames were entertaining — and that might be the wrong word for it — a special guest Wednesday at the Saddledome. 
Article content
Gabriel Luna must have recognized this scene. The actor stars in The Last of Us, a new TV series that is set in a post-apocalyptic world and was actually filmed around these parts. 
On the ice, the Flames were doing their best zombie impression. 
They snapped out of it at around the same time that Luna was being introduced to the crowd in the late stages of the opening period, but by then it was already too late.  
The defending Stanley Cup champion Colorado Avalanche, buoyed by an early three-goal lead, were on their way to a 4-1 cruise. 
"Just not ready to play against a really good hockey team, that's what it comes down to," groaned Flames winger Tyler Toffoli, the lone marksman for the home side. "Obviously, we didn't come out ready to go and they did. They were faster in all areas of the ice. Skating, passing, everything … We were trying to find our way back into the game, but they're the defending champions for a reason." 
Article content
"It was a measuring-stick game, and we didn't have it," echoed fellow forward Blake Coleman. "Honestly, they kicked our ass a little bit in the first. There's no excuse for it. You put yourself in a hole like that against a team that's been there and done that, it's going to be hard to climb out." 
Darryl Sutter didn't see the start as the only issue.  
"It wasn't the first period. It was all throughout the game, I'd say," countered Calgary's coach. "I think we were as ready as we could be. They're the champions. They had 13 guys in the lineup tonight that won the Stanley Cup last year. We had one (Nazem Kadri). Big difference. We're still very much in the show-me stage.
"I think I have a pretty good idea of where our team is at. We're in the middle of the pack, and we're not in their class." 
Article content
Hard to argue that after Wednesday's first frame, although you could possibly blame that ugly opener on the lingering fatigue from a five-game road-trip.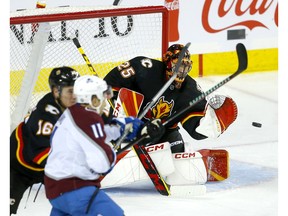 Just six minutes into the contest, Mikko Rantanen ripped a wicked one-timer from the top of the circle, capitalizing on a sequence that included a juicy rebound and then a failed breakout. 
"The first goal, we win the faceoff and we pass the puck to them twice," Sutter said. "We should have got both assists." 
The locals were still in sleepwalk mode when Artturi Lehkonen tallied twice in a span of 117 seconds. He converted a cross-crease pass from Nathan MacKinnon on an odd-man rush and then, with Michael Stone banished for interference, buried a rebound of the end-boards on the power-play.  
Article content
It's certainly worrisome that the Flames didn't seem to be ready for a date with the defending champs, especially since they were fuming about a poor start in Monday's loss in Nashville. If you switched away midway through the game to catch an episode of The Last of Us instead, we get it.  
You'd seen this one before. 
"I think we've said it throughout times in the season — we have to find a way to put 60 minutes together and come together as a group," said Toffoli, who spoiled Alexandar Georgiev's shutout bid on a third-period man-advantage, wiring a wrister just inside the post on the glove-side. "It almost feels like every time we kind of get on a roll, we do something like this and try to find our game back." 
The Avalanche are now trailing the Flames by just two points in the Western Conference wildcard race, and the crew from Colorado has three games in hand. 
Article content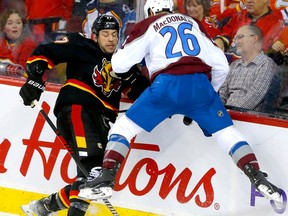 FAST FRIEND 
Flames defenceman MacKenzie Weegar was excited to catch up with an old buddy. 
He probably wasn't enjoying it quite as much when MacKinnon bolted past him in the opening period, eventually feeding Lehkonen for his first of the evening. 
Weegar goes way back with MacKinnon. They were teammates a decade ago with the QMJHL's Halifax Mooseheads. 
"I miss battling him in practice and I honestly love playing against him," Weegar said after Wednesday's morning skate. "Whoever has played with him or knows him at all, he's an intense human being. He gets everybody going, and he makes everybody play their best. It showed last year. I'm sure he was intense and a competitor with those guys, and he was the same way at 17."  
Article content
Back in 2012-13, a 17-year-old MacKinnon powered the Mooseheads to both a QMJHL title and Memorial Cup crown. He was the first-overall pick in the NHL Draft that summer and immediately made the leap to the highest level. 
Weegar, after his rookie campaign in Halifax, was selected near the end of the seventh round, at No. 206. Now in his seventh season in 'The Show,' he was admittedly feeling a mix of jealousy and motivation as he watched his pal plant kisses on the Stanley Cup in June. 
"It makes you hungry. It really does," Weegar said. "You want to win. You want to be part of that category as a champion. When people talk about you, you want to be talked about as a champion. I think about it all the time, about raising that Stanley Cup. It gives me goosebumps even right now talking to you guys." 
Article content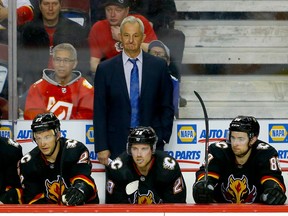 OFF THE GLASS 
Georgiev finished with 34 saves in the visiting crease, while Jacob Markstrom made 26 stops at the opposite end … Rantanen, awarded a late empty-netter, piled up three points and also made history for the fastest ascent to the 30-goal plateau in Colorado's club lore … The Avalanche were without defence dynamo Cale Makar, a bummer for his family members, friends and fans in his hometown of Calgary … Before it was revealed that Makar would miss Wednesday's clash due to an undisclosed injury, Sutter had high praise for the reigning Norris Trophy winner. The 24-year-old Makar is currently leading the loop in average ice time, working north of 27 minutes per night. "He's dominated at every level he's been at since he was a 16- or 17-year-old. Total domination," said Sutter of Makar, whose ascent to superstardom included a two-season stint with the Brooks Bandits of the Alberta Junior Hockey League. "He's probably asking for more ice time. I coached two guys like that, who won championships, won Norris Trophies, were all-stars — Chris Chelios and Drew Doughty. They wanted more ice time. They wanted the whole game. That's the class." … Next up for the Flames is Saturday's afternoon affair against the Tampa Bay Lightning (1 p.m. MT, Sportsnet/Sportsnet 960 The Fan). 
Twitter.com/WesGilbertson
I'm a journalist who specializes in investigative reporting and writing. I have written for the New York Times and other publications.