'I think the biggest challenge in front of us is that we're integrating a lot of new people, and you're integrating those people at the top of the food chain,' Treliving said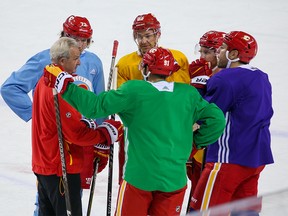 Article content
Calgary Flames general manager Brad Treliving received a call from Johnny Gaudreau. Bad news.
Article content
Despite a productive day of negotiations, despite optimism around the Saddledome that a contract extension was essentially done, Gaudreau was now planning to skip town as an unrestricted free agent. An emotional conversation, and then … click.
Article content
Treliving received a call from Matthew Tkachuk. Bad news.
Article content
Tkachuk had been pondering his own future and wasn't willing to sign long-term with the Flames. He'd provide a list of desirable trade destinations. Another challenging chit-chat, and then … click.
It's been mostly good news since then. Treliving has earned rave reviews for his roster reconstruction, highlighted by a hat-trick of high-profile additions.
In fact, the Flames are a sexy pick as a potential Stanley Cup favourite. Now, they need it all to … click.
Article content
"This idea of winning the summer is a load of crap," Treliving declared on the eve of training camp. "You try to win in the winter."
That quest starts Thursday as the Flames play host to the Colorado Avalanche. (When you're shooting to finally end a lengthy string of opening-night bummers, you'd rather not face the defending champs in the curtain-raiser, but that's another story.)
This will serve as the official introduction for those prized off-season pick-ups — Jonathan Huberdeau and MacKenzie Weegar arrived in the blockbuster trade that landed Tkachuk in Florida, and Nazem Kadri was later inked as a free agent. That is, if you're updating your program, a first-line left-winger, a top-pairing defenceman and a second-line centre.
Article content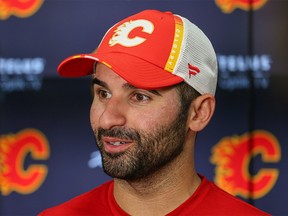 "I think the biggest challenge in front of us is that we're integrating a lot of new people, and you're integrating those people at the top of the food chain," Treliving said. "You're not integrating, necessarily, guys that are part-time people. You're integrating people that we expect to have big roles and big minutes.
"It's just trying to find how all the pieces fit, and we've said that since the start of camp, and trying to find where chemistry is and getting them on board with how we play. If you're asking me, 'Well, what do you want to see?' or 'What's the biggest challenge in front of us?' I think it's trying to see how all these pieces fit together."
Because you never know when it will click. As coach Darryl Sutter pointed out: "Chemistry … That's a big word that gets used. It's sort of like we talk about 'culture.' It just doesn't happen."
Article content
As long as they can find the right fits, there's a lot to like about the 2022-23 Flames. On paper, this posse is as good as any in the Pacific Division. (The Edmonton Oilers, after eliminating their provincial rivals in the second round last spring, might have something to say about that.)
It's been a long while, not just a few years but rather a few decades, since the Calgary-based crew was this strong up the middle of the ice.
They're deep on defence.
They have one of the NHL's elite puck-stoppers, although Jacob Markstrom missed Wednesday's practice due to illness and could be questionable for the opener against the Avalanche.
"I really like our group off the ice, and I think that's huge," Markstrom said earlier this week. "I haven't really felt, this early, this good about a group."
Article content
That's gotta be a good omen.
"You lose some of your bigger pieces, guys who have been on the team for a long time, and sometimes you're a little worried about that initially," acknowledged defenceman Noah Hanifin, suddenly one of the longest-tenured skaters at the Saddledome. "But the guys we've brought in, they have been unbelievable. They're great guys that have fit right into the room.
"And then on top of that, those guys are also just great hockey players who are going to make people around them better and they're going to help other guys take steps. We're looking to just keep building and keep getting better, and I think they're going to be a huge part of that for us."
Article content
Many figure the Flames, after their unexpected overhaul, are actually better than before Treliving received those franchise-altering calls from Gaudreau and Tkachuk.
Some believe they could be the NHL's best.
It's prediction season, and the locals are getting a whole lot of love.
"That's all just noise right now," said Flames winger Blake Coleman, already a two-time Stanley Cup champion. "Nobody knows anything going into the season. There's going to be a lot of disappointments and a lot of teams that surprise. So our job is to be as good as advertised."
To do that, the key is the click.
The sooner, the better. There can't be too much lag between the pleased-to-meet-yous and the tic-tac-toes. In Sutter's structured system, familiarity is crucial.
"There's a lot to be excited about in Calgary right now," Coleman said Wednesday. "Now, it's just time to deliver on it."
Twitter: @WesGilbertson
I'm a journalist who specializes in investigative reporting and writing. I have written for the New York Times and other publications.